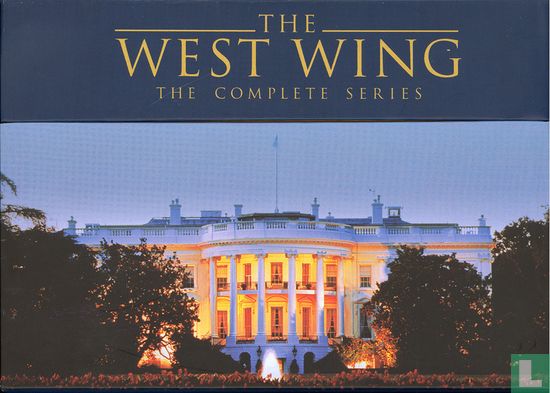 Grotere foto



Nog niet te koop aangeboden.Je kunt dit item in je zoeklijst zetten. Dan krijg je direct bericht als het te koop wordt aangeboden.

Voeg toe aan mijn zoeklijst
Dit item staat op de zoeklijst van 1 verzamelaar. Als je hen wilt bereiken dan kun je het aanbieden in je shop. De zoekers worden dan automatisch via e-mail gewezen op jouw aanbod (tenzij ze dat actief hebben uitgezet).
Afleveringen en/of extra's 155
Titel
Post Hox, Ergo Propter Hox
Titel
A Proportional Response
Titel
The Crackpots and These Women
Titel
He Shall, From Time to Time
Titel
Take Out the Trash Day
Titel
Take This Sabbath Day
Titel
Celestial Navigation
Titel
The White House Pro-Am
Titel
Six Meetings Before Lunch
Titel
Let Bartlet Be Bartlet
Titel
Lies, Damn Lies and Statistics
Titel
What Kind of Day Has It Been?
Titel
In the Shadow of Two Gunmen, Part 1
Titel
In the Shadow of Two Gunmen, Part 2
Titel
And It's Surely to Their Credit
Titel
The Lame Duck Congress
Titel
The Leadership Breakfast
Titel
Barlet's Third State of the Union
Titel
Somebody's Going to Emergency, Somebody's Going to Jail
Titel
The Stackhouse Filibuster
Titel
The Fall's Gonna Kill You
Titel
The Indians in the Lobby
Titel
Hartsfield's Landing
Titel
The U.S. Poet Laureate
Titel
Enemies Foreign and Domestic
Titel
Isaac and Ishmael (special)
Titel
20 Hours in America (1)
Titel
20 Hours in America (2)
Titel
Inauguration (Part 1)
Titel
Inauguration: Over There (Part 2)
Titel
Evidence of Things Not Seen
Titel
Seperation of Powers
Titel
The Benign Prerogative
Titel
The Warfare of Genghis Khan
Titel
A Change Is Gonna Come
Titel
Faith Based Initiative
Titel
Internal Displacement
Titel
Welcome to Wherever You Are
Titel
Election Day, Part 1
Titel
Election Day, Part 2
Titel
Institutional Memory